Oskar Šega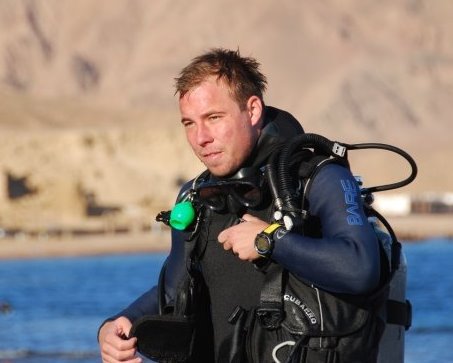 Oskar Šega is co-founder of Divestrong d.o.o. His first scubadiving experience took place when he was still a child. When he was 13 years old his stepfather who was already an experienced diver took Oskar with him on a dive. It was then that he fell in love with scubadiving and everything connected with it. He finished PADI Divemaster course in 2008. Since then he's been regularly participating in scuba diving education and upgrading his scuba knowledge. He has successfully finished Master Instructor course with some of the world's most known diving schools, such as PADI and SSI. He has also finished numerous technical diving courses with scuba scools ANDI, PSS, TDI and SSI which brought him a title of SSI Technical Extended Range Trimix Instructor. Oskar studied and learned from 'masters' in the scuba diving industry, like James Morgan (PADI Vice President) and Andreas Kron (SSI International Training Director). In his professional scuba diving era he has successfully certified over 700 new scuba divers.
Nejc Sabolek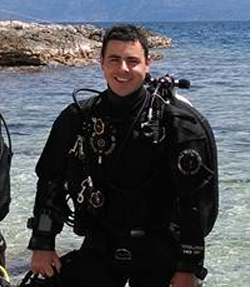 Nejc is co-owner of Divestrong, d.o.o. and a passionate diver. He has years of experience in sports education since he's not only teaching how to scuba dive but also teaches skiing. When he submerged into the water with a scuba tank for the first time he was instantly addicted and has been hard getting him out of the water ever since. Nejc is immensely patient and consistent. He finished his instructor scuba diving course 6 years ago and since then he is constatly upgrading his knowledge. His current title if Staff Instructor by PADI and SSI and he also finished course for SSI Technical Extended Range Trimix Instructor. What amazes and inspires Nejc the most are definitely underwater wrecks. Ever since he became a father of Jan and Maja he's trying to transmit his diving excitement onto them and they are already eager to hear all the crazy diving stories he has to tell.
Jure Kolar
Jure is a big nature lover. He has a soft spot especially for sea and mountains. He's been tightly connected with sea ever since he was still a child. It was then when he started discovering underwater world on Korčula with mask and fins in the company of his father. Soon, he also showed interest in photography and is now always carrying his camera around the world, trying to capture unforgettable moments. Legend says when Jure was still in primary school, he always saved his allowance for the summer so he could buy a disposable underwater camera and took pictures of his first underwater moments. He managed to stay a dreamer in this 'crazy world' as he likes to call the modern way of life and dreams of his shiny, bright future, living somewhere on the seaside. Jure joined Divestrong family in 2017 and is now working as a diving center manager.