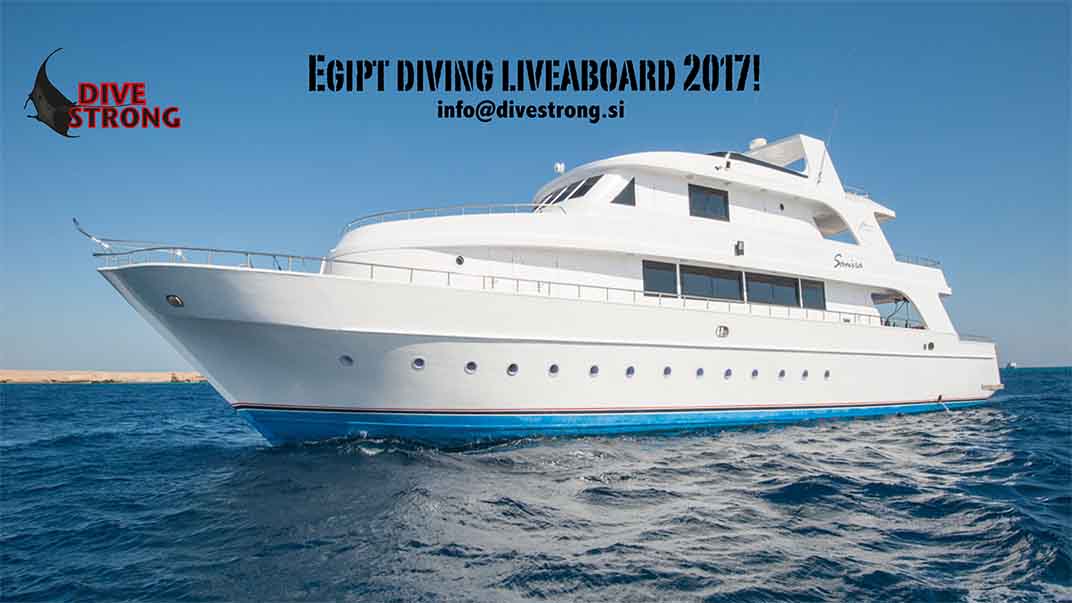 In cooperation with tourist agency Slonček we prepared the following offer for all diving enthusiasts:
Egypt Liveaboard 2017 - Wreck week
11.11. – 18.11.2017
Package price: 1299€
SPECIAL OFFER:
Free specialty course for all applications received until 15.6.2017 (wreck, deep or nitrox)!
Application is valid when 30% deposit is paid.
PRICE INCLUDES:
• Return plane ticket from Graz to Hurghada (direct flight) – if you want to fly from another airport we can also try to make that happen but in this case the price might vary
• 7 days spent on a completely new ship M/V Hammerhead, 5*
• 3 meals per day, snacks, all nonalcoholic beverage and beer
• 6 days of diving including 12l aluminum scuba tanks (approx. 20 dives)
• Nitrox for those that have nitrox course (you can also do the course on board)
• All transfers from Hurghada airport to the ship and back to airport
• 2 dive guides + 1 Slovenian dive guide
• Wi-fi
PRICE DOESN'T INCLUDE:
• Egypt visa
• National parks and marines fees (approx. 40€)
• Fuel tax (approx. 50€)
• Renting 15l scuba tanks, double tanks, underwater scooters, technical diving equipment
• Tips (approx. 50€)
• Trip insurance (possible and highly recommended) for information about exact insurance fee, please contact us)
• Diving insurance
• Each diver has to have Dan, Aquamed or Coris insurance, including diving risk
DIVES:
On this Safari we're going to scuba dive on most beautiful locations of northern Red Sea, known by national park Ras Muhamed, which is still known as one of the best diving locations in the world. This trip is perfect especially for those who love diving on wrecks because we're going to dive on some of the best wrecks of the northern sea, including the most popular one – THISTLEGORM.
THISTLEGORM – one of the biggest Egypt attractions. The ship of the British navy was built in 1940. It sunk due to German bombing attack during World War II. The wreck is especially interesting because of its length – it's 131m long! Furthermore it offers many preserved materials, which were carried on the ship (army shoes, boxes of ammunition, variety of motors and motorbikes, weapons and even a part of a locomotive). The factor that makes this wreck even more attractive is approachable 30m depth, which can be accessed by divers with AOWD license.
ABU NUHAS – it's a beautiful location with 4 wrecks accessible in small distance. Giannis D is a 100m Greek cargo ship, built in Japan and was sunk on April 19, 1983 when it hit the Abu Nuhas reef. The depth is from 13m – 24m. Penetration to the open cabin is particularly beautiful; there is also a ''glass fish''. One of the oldest wrecks in Egypt is British ship Carnatic. 90m ship was also sunk when it hit the reef in 1869. It carried gold, cotton and wine. The depth is 24m. Chrisoula K is a 98m Greek ship on a depth from 3m to 26m. This ship is especially interesting for it's many penetration options and for possibility of diving through large open areas.
RAD MUHAMED – is the most known reef in Red Sea and it stands as one of the best scuba diving locations in the world. Fishing is prohibited in national park, therefore it offers intact flora and fauna. Usually there is a lot of sea life able to be seen. Here we're going to also dive on the most famous reef of Ras Muhamed – Yolanda reef.
SALAM EXPRESS – is a passenger ship, sunk in December 1991. Officially it carried somewhere around 690 passengers and crew, unofficially it's said there were 1600 people on board. Unfortunately most of them drowned.
DUNRAVEN – is an 80m British cargo ship, sunk in 1876 when it hit the Bacon Rock reef. The depth is 18m – 28m. There is a lot of macro life on the wreck, such as ''gass fish', nudy branch and many more.
These are just a few locations meant to be visited. Locations are estimated. In case of inconvenient weather conditions the dive locations can change or be adapted.
BOAT INFORMATION:
The boat is 37 meters long and has 10 double rooms. There is place for 20 divers on board, each room has a shower and a toilet. The staff is very kind and will gladly take care of you on your luxurious travel.
There are only two cabins with double beds, prior reservation is in order.
Hurry up, the number of available places is limited!
Applications: info@divestrong.si or +38641 334 146 (Oskar)

For more information about date and travel itinerary, please contact us.