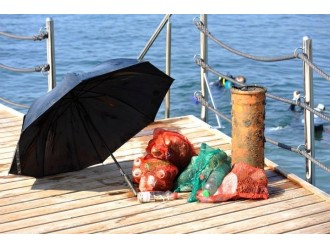 Aware - Slovenian Dive Against Debris 2018
22.09.2018 13:24
Where Conservation Meets Adventure – Join us – Divers and Non-Divers needed to help save our Oceans.
Marine debris is not only unsightly, it's dangerous to sea life, hazardous to human health, and costly to our economies. Marine animals become entangled in debris, and even mistake it for food - often with fatal results. Divers, swimmers and beach goers can be directly harmed by encounters with marine debris or its toxins.
Every year we group together and do our part to protect the ocean we love. In recent years our focus has been the Marina and the swimming area in Bernardin.Making the areas cleaner and safer for the local community who value and enjoy these spaces.
WHERE: Marina and Bernardin Hotel
Recently we were contacted by a fellow diver and biologist who was disgusted at the amount of polution in front of the hotel. This worried call has not gone unheard and this year we will move our focus and include this area, to clean up our beautiful coast and protect the aquatic life we share it with.
WHEN: September 22nd
10am We shall meet at the Dive Centre to begin registeration along with a Coffee and Croissant Brunch to get you fuelled for the day.
11am Briefing – Our experienced Instructors will provide all the information necessary for ensure a fun and efficient clean up and making sure you stay safe in the process.
11.30 – 4pm CLEAN CLEAN CLEAN In groups of four we will begin our clean up. The groups will be arranged on the day depending on level and experience. We will also have surface support to help with the removal of trash.
5pm Late Lunch – you will have built up an appetite.
WHATS INCLUDED:
Coffee and Croissant Brunch
We will look after all the logistic for the day
We provide Tanks, Refills and Weights
PARKING – Parking is available in Bernardin for free.
Plenty of backs to fill with trash, and surface support to help dispose of the trash appropriately.
NOT INCLUDED:
Equipment rental – any pieces you are missing we can provide. Even a full set if needed
The cost of Lunch – 6 eur
Apply by email: info@divestrong.si
or telephone: +38641334146